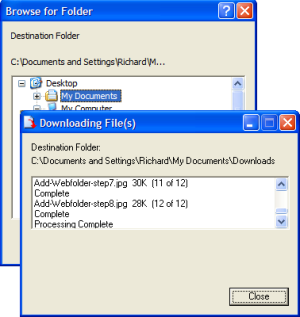 Download Assistant: Easy, Fast, Reliable Downloads
The My Docs Online Download Assistant (Windows only) is an application that makes downloading large files or multiple files easy and fast. Once you have installed the Download Assistant you can use your web browser to select files or the contents of a whole folder, and automatically launch the Download Assistant.
Select files after logging in at www.mydocsonline.com. "Check off" one or more files, then click "Download" to start.
Install the Download Assistant now.
Benefits:
FASTER. Selected files are compressed during transfer.
MORE EFFICIENT. Download multiple files in one action.
SECURE. Encryption is automatic based on your account settings.
CERTAIN. Automatic Recovery / Restart assists when download interruptions occur.