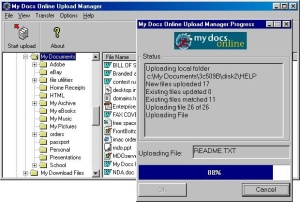 Upload Manager Client for Windows
The Upload Manager for Windows is designed to make uploading folders and files fast and easy from your Windows PC to your My Docs Online account. The Upload Manager Tool will:
Upload entire folders, including subfolders.
Upload selected files within a folder.
Upload new and updated files for existing folders in your account.
Works with ALL versions of My Docs Online.
Uploads 40% faster than standard browser upload.
Get the Upload Manager: UploadManager-1.0.3.exe
You can choose "Run this program from its current location" or you can "Save" the program to your Desktop before executing. No installation required.